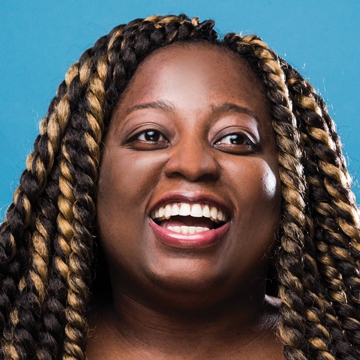 Health Working Group Co-Chair
Dr. Bukola Salami
Professor, Faculty of Nursing and Director of the Intersections of Gender Area in the Office of the VP, Research and Innovation University of Alberta
Website
Dr. Bukola Salami
Professor Bukola Salami received her Bachelor of Science in Nursing from the University of Windsor, Master of Nursing from the University of Toronto, and PhD in Nursing from the University of Toronto. As of April 2023, she is Full Professor at the Faculty of Nursing, University of Alberta. Previously, she was Director of Intersections of Gender Signature Area in the Office of Vice President Research at the University of Alberta (September 2021 to March 2023). In June 2023, she will become a Professor at the Cumming School of Medicine, University of Calgary and a research chair in an area relevant to Black people's health.
Professor Salami's research program focuses on policies and practices shaping migrant health as well as Black peoples health. She has been involved in over 80 funded studies totaling over $225 million. She has lead research projects on African immigrant child health, immigrant mental health, access to healthcare for Black women, access to healthcare for immigrant children, Black youth mental health, health of internally displaced children, wellbeing of temporary foreign workers, COVID vaccine hesitancy among Black Canadians, environmental scan of equity seeking organizations in Alberta, culturally appropriate practices to research with Black Canadians, and parenting practices of African immigrants. She is one of the most published Black health researchers in Canada with over 110 papers in peer reviewed journals.
She founded and leads an African Child and Youth Migration Network, a network of 42 scholars from 4 continents. In 2020, she founded the Black Youth Mentorship and Leadership Program at the University of Alberta. The program, the first University based interdisciplinary mentorship program for Black youths in Canada, seeks to socially and economically empower Black high school youths to contribute meaningfully to the Canadian society. Her work on Black youth mental health informed the creation of the first mental health clinic for Black Canadians in Western Canada (which was founded by Africa Center and the Alberta Black Therapist Network).  She has also presented her work to policy makers (including twice to the Prime Minister of Canada and once to the House of Commons Standing Committee on Health). Her work has contributed to policy change, including related to Black peoples wellbeing.  In 2015/2016, she was a collaborating researcher at the United Nations Research Institute for Social Development. She has trained over 100 undergraduate and graduate students including around ten who are now Assistant or Associate Professors.
She is involved in several community volunteer initiatives including the Public Health Agency of Canada Working Group on the Mental Health of Black Canadian, and the Bell Lets Talk Funding advisory committee. She is a Board member of Black Opportunities Fund, Canadian Nurses Association, Black Physicians of Alberta (Vice President) and Black Health Alliance. In the past, she was a Board member of Africa Center (the largest Black organization in Western Canada), Alberta College of Social Workers, Edmonton Local Immigrant Partnership, National Association of Nigerian Nurses of North America, International Nursing Interest Group of the Registered Nurses Association of Ontario and Project Esperance (a housing unit for women in Toronto). In addition to being an Editor for the Canadian Journal of Nursing Research, she is an Associate Editor of the Canadian Medical Association Journal (CMAJ) and on the Editorial Board of Nursing Inquiry and Qualitative Health Research Journal. She is an advisory board member of the CIHR Institute for Human Development, Child and Youth Health. She has been a grant reviewer for several organizations, including the Public Health Agency of Canada, Bell Lets Talk, Shastri Indo-Canadian Institute, Edmonton Community Foundation, United Kingdom Medical Research Council, Canadian Institute for Health Research, Social Sciences and Humanities Research Council of Canada, Alberta Health Services Strategic Clinical Network, Women and Children's Health Research Institute, Saskatchewan Health Research Foundation, and Alberta Innovates Health Solution.
Dr. Salami has received several awards for research excellence and community engagement: 100 Accomplished Black Women in Canada; Sigma Theta Tau International Honor Society of Nursing Emerging Nurse Researcher of the Year Award; College and Association of Registered Nurses of Alberta (CARNA) Award for Nursing Excellence; Rosalind Smith Professional Award from the National Black Coalition of Canada – Edmonton Chapter; and Alberta Avenue Edmonton Top 40 under 40. In 2020, she became a recipient of the Sigma Theta Tau International Honor Society International Nurse Researcher Hall of Fame, the highest research award in nursing. In 2021, she became a Fellow of the Canadian Academy of Nursing. That same year, she received the Killam Accelerator Award (a $225,000 value for research) given to the best early career researcher at the University of Alberta. In 2022, she was named among Top 25 Canadian Immigrants and in 2023, she received the Queen Elizabeth II Platinum Jubilee Medal Recipient.