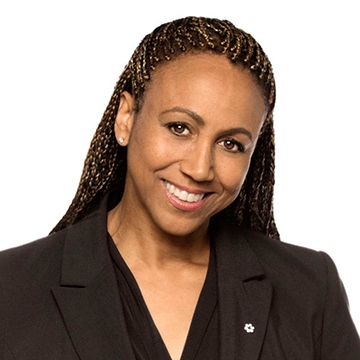 Governance & Nominations Committee Chair
Charmaine Crooks
President & CEO President, Canada Soccer Association NGU Consultants Inc.
Website
Charmaine Crooks
Charmaine Crooks is a Member of the Order of Canada, five-time Olympian, and Olympic Silver medalist (LA '84 Athletics) who has been an integral part of Canadian and global sport as a leader, innovator and advocate.
Crooks was born in Jamaica to a family of nine children and came to Canada when she was six years old. After taking up running seriously at sixteen she made the 1980 Canadian Olympic team the next year, but her Olympic debut was delayed due to the boycott of the Games in Moscow that year. In 1981 Crooks won a scholarship to the University of Texas-El Paso where she completed a degree in psychology. When the six–time All-American finished her studies in 1984 she competed for Canada at the Olympic Games in Los Angeles where she won a silver medal as a member of the Canadian 4x400m relay team.
In her long-term career, Crooks also won medals at Commonwealth and Pan American Games (a gold in the 400m in 1983), the World Cup, and the Canadian national championships. She was an eleven–time national champion in the 400m and 800m events and the first Canadian woman to break the two–minute barrier over the longer of the two distances. Charmaine Crooks was the first female track athlete in Canadian history to compete at five Olympic Games. Her contribution to the Olympic movement, however, has continued beyond her seventeen–year running career.
At the Atlanta Centennial Olympic Games where she was Team Canada Opening Ceremony flagbearer, she was part of the first group of active Athletes elected by peers to the International Olympic Committee as voting members. There she served on the IOC Press Commission, IOC Culture and Education Commission, New Media working group, IOC 2000 Reform Commission, founding IOC Ethics Commission and the World Anti-Doping Agency. She was also appointed founding Chair of the PASO Athletes Commission and was elected Vice President of the World Olympians Association.
As one of the members of the 2010 Olympic Winter and Paralympic Winter Games (Vanoc), Charmaine was the only director to serve from the initial bid phase through to the successful end of the Games.
Other roles have included that of Vice-President of the Global Esports Federation and founder of the Canadian Esports Federation.
Charmaine Crooks' global consultancy firm provides strategic advisory, marketing and corporate development services to a variety of sectors including sport, media, technology, health and major events.
Her volunteer leadership in sport includes roles on the Canadian Olympic Committee, Canadian Soccer Association executive board and the Organising Committee for FIFA Competitions. On March 1st, 2023, Crooks was named interim President of the Canadian Soccer Association. She's also been director on several charitable and public sector Boards in a variety of sectors including technology, finance, sport and health.
She co-founded the 365 International Sport Foundation, dedicated to bringing communities together through sport. This includes the creation of Our Cityride, a mass participation sport for all cycling ride & Festival. Globally, she is a Champion for Peace with Peace and Sport.