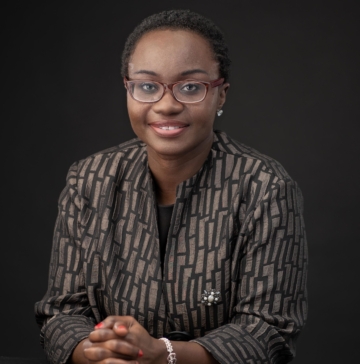 Director
Bukkie Adewuyi
Vice President - Finance and Business Intelligence Prospera Credit Union
Website
Bukkie Adewuyi
Bukkie is a chartered accountant and a certified auditor with over twenty years' experience. In her current role as VP, Finance and Business Intelligence with Prospera Credit Union, she oversees the financial reporting including regulatory reporting, financial planning and analysis, procurement as well as business intelligence and insights to drive optimal performance. She previously led the internal audit division at Prospera Credit Union from August 2020 to March 2022, working collaboratively with management and the board to create a trusted advisor brand for the division whilst providing assurance on risk mitigation.
Prior to joining Prospera, she built up a wealth of consulting experience spanning fifteen years in South Africa working with audit firms, PwC, Deloitte and Grant Thornton. In her last role as a Partner and Director at Grant Thornton, she was responsible for leading large complex portfolios, working with multi-disciplinary teams and providing insights to Boards, Audit Committees, and the C-Suite. She is experienced both as board member and as a service provider to boards.
Bukkie is passionate about the community and advancement of minority groups. She plays a key role as a board member of the Prospera Foundation and a member of the DEI Council at Prospera. She is a board member of Impact Toolbox, an organization aimed at the socio-economic development of youths through education and seed-funding. She is also a recently appointed Board Member and Finance and Audit Committee Member of the Black Opportunity Fund. She actively volunteers in the community with the Yoruba Social and Cultural Association of BC as well as others.
She holds a B.Sc in Accounting from Obafemi Awolowo University, Nigeria, and an MBA from the University of South Africa. Bukkie is happily married with three lovely children.